Old Reviews
Just wanted to say thank you. Got the package yesterday, it's fabulous. Thanks again!
Brandon J Sheaffer
many thanks for my order it arrived today its fabulous.am really pleased with it.thank you
from Julie Davis
JullesPD1@aol.com
I received the order. It looks great, thanks very much.
Laura Burgess
laura9578@yahoo.co.uk
Thank you for sending the 'Dimberline name and Lincoln crest'. It's great. My daughter's partner who it is for is 30 soon and has spent most of this year building their five bedroomed house in a beautiful spot by a river and this will look lovely in the hall. I am going to order one for my daughter her surname is Walker and they can have them in either side of the hall.
Margaret Walker
I have received the film cell and it was packaged very well, I am thrilled and will be buying again. Many thanks.
L A Beck
lesleyathome@softhome.net
Thankyou for the hand painted anniversary celebration certificate . it was fantastic my parents were over the moon with it. i have given your web address to several people who were very interested, so i hope they contact you.thanks again
Karen Bluett
bthecowman@aol.com
yes it arrived on saturday and it was a brilliant choice and will hang on my dads wall. Thanks for your co-operation and will purchase again in the future.
Daniel
dan_wade@hotmail.com
Just a short message to say thank you very much for your help - I received my coat of arms in the post today and it is beautiful.
Tracey
jay.tray@tiscali.co.uk
Hi Gary, I came home from work tonight and saw a big brown box in front of my door. And yes; It's all I hoped for and more. NOT ONLY IS IT IN MINT CONDITION BUT THIS SUCKER IS HUGHE! I was planning on putting it next to my computer but is way too beautiful for that. It's now in my living room in plain sight! You're the living proof that ordering over the internet can be a really satisfying experience! Thanks for all the effort, Gar!
Johan
Hi, just a quick mail to say thanks for my order. I received it from The Name Shop and the letter was signed by Sarah Jenks. I ordered the Lord od Darkness Movie Maniacs figure that is increasingly hard to find, not only was the item located by you guys, the price was reasonable and it arrived in less than a week. The packaging was very secure qhich i was please about as the contents are fragile. Outstanding server. Fell free to use this feedback on your site.
a very happy... Matt Rose
Thanks Gary for trusting me, your money should have gone directly into your account as it was paid in as cash. Have just had a phone call from my Mum, the parcel arrived at about 10 am today. Have not seen it as yet but once again a BIG THANK YOU. Happy Easter to you and your staff.
Regards Bev Iremonger
Bev@vbra.co.uk
Just to let you know our framed work arrived today safe and sound, we are really pleased with the results, and I have already recommended your work to others.
Kind regards, Sue Alty
I received my order today, much earlier than expected and considering its come half way around the world (UK to Perth, Australia), it arrived safe and sound and in excellent condition. I just wanted to say a big thank you, let you know how good your service has been and inform you that I will definately be using your organisation again.
Les Williams
Just to say that I received my order this morning and was quite delighted with it-as I am sure my Uncle and Aunt will be as it is a Christmas present for them. I know they have tried to find information about their surname (Paice) before and have never been successful. Thanks for all your help.
Candice Dias
candice_dias@hotmail.com
I have recently received my order and this is just a note to say how truly impressed and delighted I am at the quality of the item. It is a Christmas present for my dad and it will be a pleasure to give this gift to him. I would definitely order from your shop again and would recommend you to anyone.
Mrs Claire McMahon
clairemcm@btinternet.com
Thanks for the parcel. Well wrapped! Son will be very pleased with these. It was easy to order and staff very helpful.
Lynne
lynnemerry@hotmail.com
hi gary - just wanted to say thank you for getting the spiderman film cell to me on time - it certainly was a well appreciated birthday present! please
pass on my thanks to sally too,
jo bradley
jojo1.bradley@tiscali.co.uk
Collected the second item from your shop this afternoon. I'm sure they'll be delighted with them both. Nice to do something different. Thanks for your help. We're away to Thailand Monday to celebrate our anniversary - we deserve something for thirty years eh!
Ange
angemonk@yahoo.com
Dad is delighted with the coat of arms. It actually arrived yesterday, the day of his birthday, so it was perfect timing. Thanks for your help in getting a chough shape instead of a rook/crow shape.
Lisa
rowleys@nendrum.fsnet.co.uk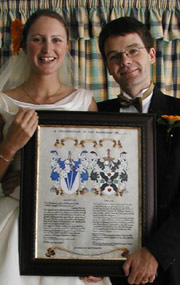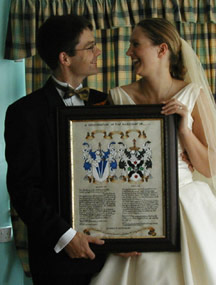 Sorry for the delay in getting back to you with a piccie, but we only all got together again last weekend, so only just got the photo for you. My Grandma couldn't come to their wedding as she is too ill, so Joc put on her wedding dress again and my bro got suited and booted and we had another little wedding day at my grandmas nursing home. I thought it was a perfect op to get some pics for you with them in their entire get up, so I've attached two photo's for you to chose from with them and the scroll. Hope they are ok for you.

Both Dave (Glenton) and Joc (Taylor but now obviously Glenton aswell!!) have said it's fine for you to put them on the website, so no probs there either.
They are both really pleased with the scroll.
Again thanks for you quick service with the scroll & the great job you did and I hope that the photo's will help your website sales.
Bec Glenton
pertstuff@hotmail.com
I received my order this morning. I would just like to say how pleased I am with it. I'm sure the happy couple will be just as happy with it and will give it pride of place in their living room. I will certainly recommend you to my friends and colleagues.
Carol Henly
Carol_Henly@blick.co.uk
It's my daughter's birthday on Saturday and I will be giving her her birthday present and presenting them with their wedding present. I'll have my camera with me and will send you a picture of them together with the picture and yes I would be only too pleased for you to use my comments, I have no problem with that whatsoever. I hope your business goes from strength to strength. All my best wishes to you.
I received my order this morning. I would just like to say how pleased I am with it. I'm sure the happy couple will be just as happy with it and will give it pride of place in their living room. I will certainly recommend you to my friends and colleagues.
Carol Henly
Carol_Henly@blick.co.uk
Got the package, It looks great. Is it possible for my relatives to get a copy of this crest if they want? I want to let them know and who to contact if it is.
dan
dgrummert@cox.net
Dear Gary, Will you please pass on my thanks to all those concerned in the production of the double surname history you sent to me. My brother and sister-in-law were absolutely delighted with it when they opened it for their Ruby wedding yesterday.
I am so glad that I persevered with the project to such a happy conclusion.
Kathleen Strachan
Many thanks for the order, both pieces were excellent. I'm not sure how happy the old man will be with such an ecclesiastical coat of arms! That said, I'm sure he'll be thrilled all the same.
Pete.
I want to thank you for the shamrock name plaque. I received it yesterday.
We love it! I will soon be ordering more. I need to get one for myself (surname Robert) to hang right next to Martin.
Nicole Roberts
I just wanted to drop you a mail to say THANK YOU VERY MUCH for the hand painted wedding celebration that you delivered for me on Thursday last week
(see order below). I didn't expect to have received it until a few weeks after the wedding and was surprised and extremely pleased to receive it in time to give it to my brother and his new wife actually on their big day. It was absolutely gorgeous and the bride and groom were very pleased with it. So, again, thank you very much for getting it done early and on time for me and for doing such a great job.
Bec Glenton
I have just received the family crest and would just like to thank yo for the very prompt service. Also, you have made a really wonderfull job and I am extremely pleased with the result.
Max
Hi Gary - thanks for the email and sorry to have bombarded you! I have phoned the shop and they are processing the order. You've found a really interesting little niche to operate in and I wish you continuing success.
Anthony
A.Cond@livjm.ac.uk
Just wanted to let you know the package arrived today and the artwork is absolutely beautiful. Thank your artist for the wonderful craftmanship and thanks to you for quick and excellent service. We will certainly be sending some people your way. Thanks again!
Tommy Letham
syrtommyboy@msn.com
Just to let you know that I received the Newton Surname scroll today. It arrived safe and sound and I am really very pleased with it. I will certainly recommend you to my friends and family for possible future purchases and I hope that we may do business again in the future. Thank you for a swift transaction.
Dawn Stone.
Thank you so much for getting back to me. It is so refreshing in this day and age to find honest business people who are a pleasure to deal with. Thank you again,
Amanda Ellis
akellisrn@earthlink.net
You are one of the promptest, nicest, efficient companies I have ever had business with!!! I would be happy to recommend you to anyone!! And I have!! Thanks Again! Seasons Greetings!
yes you may use my comments on your site. The crusades does sound like a logical reason for the crest containing a Moor. Where did you get the information for the family crest? That might give me a good place to start in my further research. Thanks again.
Lucas
lucas.schwarzrock@123fargo.com
just to let you know I received my order on Tuesday. Again I would like to congratulate on your excellent products. The pictures are outstanding and far better that I anticipated. I am sure that the person I bought them for will love them.
I love the new site- it is very user friendly. I particularly like the Chinese/Western Horoscope- I must have missed this on the last site. I have recently recommended your site to a friend in America and she thinks it is fantastic so you may have a new client shortly.
thank you for doing that. we got the cell this morning and we are really pleased.
lisa
Your website looks great-it's actually much easier to navigate now. Also, from the looks of it purchasing will be easier too-good job!! I thought i would just send my order to you since you said that i needed to because of one of the surnames. So, i would like to order two separate family name histories, Mintner and Hansen-framed and with the green background. If i forgot anything let me know! Is there anyway that you could send a bill to me? Just because i don't want to give my credit card # over email-probably not the most secure :) thank you-
Corynn Feldmann
Dear Gary: I love your new site. Congratulations! How is my order coming? Got a neat web site from the Shrewsbury and Atcham Borough Council. it is
http://www.virtual-shropshire.co.uk/about/gone-to-earth.html. It has a lot of info on the making of the movie, and mentions that Longner was one of the
sites used. Have located a site that has the movie www.blackstar.co.uk, but your equipment over there is different, and it can!t be run on our dvd players.
We are region1 and you are region 2. Will have to keep looking. I really appreciate your help and the fact that you reply so quickly. I thought all English people were aloof and stuffy. You proved me wrong. Wish you were my relative.
Fran.
Your new site is very nice I will be ordering from you within the next day or so. When you look up the Family Crest and Coat of Arms does it give original colors? I have so very little information to give Paul for a family history I maybe just hitting my head against a brick wall. Thanks for sharing your site with me.
Ann
Celskyengel@aol.com
I received my order yesterday. You guys really did an incredible job, it looks great. Thank you for all of the prompt responses to my questions and concerns. I will recommend you to others. Once again thank you. My brother will be very happy.
Brit
bdo1@psu.edu
I have received my order today and I am sure my Dad will be over the moon as it looks wonderful. best wishes for christmas many thanks
Andrea
andrea.murphy@acco-uk.co.uk
Many thanks for processing my order (#152) so fast - I received the package today and I am extremely pleased with the film cell. Thank you and Merry Christmas,
Chris Drew
Thanks for the parcel. Well wrapped! Son will be very pleased with these. Thanks once again.
Lynne
Yes thanks, exellent service, thanks again and happy new year Regards
Matt
reflexvw@fsmail.net
I got it today in the mail. It is awseme. Thank you.
Siobhan Cooney
Just want to say thankyou for getting all the film cells we ordered in really quick time! They're now up on the wall and as a complete set they look wonderful! Also a thankyou to the lady that got the hooks to us so quickly (unfortunately one of them came without a hanging hook attached!) they arrived the next day in the post!
Stephanie Hill
summerleaf2001@yahoo.co.uk