Famous Name - Adams



ADAMS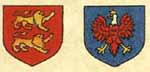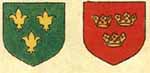 The English surname Adams is of patronymic origin, being of that category of surnames derived from the first name of the parent of the original bearer. In this instance, the name simply denotes one who is the "son of Adam", a Hebrew personal name meaning "man", from the Hebrew term "adamah" which means "red earth". This derivation undoubtedly has its root in the Biblical account of Adam's creation by God from the clay of the new world. This gained popularity in Europe following the advent of Christianity when parents were encouraged to name their children for saints and Biblical figures. References to this name in written records may be found as early as the thirteenth century. In 1281, one Alianor Adam is noted in the "Assize Rolls" for Cheshire and in 1327, a William Adames is mentioned in the "Subsidy Rolls" for Worcestershire. This name was established in America at an early date. It is documented that one Henry Adams of Barton David in Somerset, crossed the Atlantic in 1638 and settled in Braintree, Massachusetts. There he founded the distinguished family which gave two presidents to the United States; his great-grandson, John Adams, member of the committee to draft the Declaration of Independence and second to hold the office of President from 1797-1801 and John Quincy Adams, his son, who was President from 1825-1829. Other persons of note who have borne this name include John Adams (1760-1829), alias Alexander Smith, the mutineer on the Bounty who founded the colony on Pitcairn Island and Robert Adams (1791-1875) the Irish physician known for his studies of heart disease and gout, which is described as Adams-Stokes disease or syndrome.

BLAZON OF ARMS: Or, on a cross between four martlets sable, five mullets or. Translation: The cross signifies the Love of God for Sinful man. The martlet is depicted without legs and is said to subsist on the Wings of Virtue and Merit.

CREST: A martlet sable holding in the beak a mullet or.

MOTTO: Cruce duce.

Translation: With the cross for guide.

ORIGIN: ENGLAND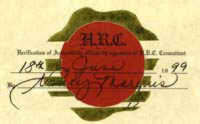 Copyright © The Historical Research Center International, Inc, 1999.
All rights reserved. No reproduction without permission.