Hand Painted Large Marriage Celebration
This shows First names, Surname History origins and Coats of Arms hand painted for both families Crest and family motto if there is one, date and place and time of marriage.
Superb Gift for that special Wedding or Anniversary Day !! This is fantastic gift to hang over the mantlepiece or in a place of honour for your descendants to see.
A photograph of our Hand Painted Marriage Celebration (this photograph does not do justice to our Marriage Celebration):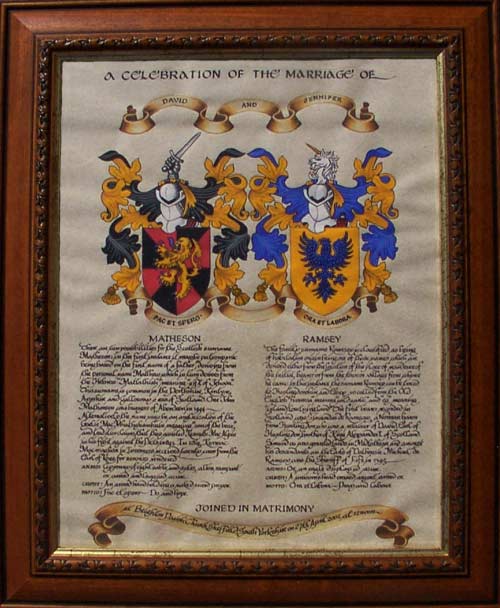 Information includes all names, place of marriage date of marriage and time optional to have anniversary at top instead of Marriage.Superb quality by local artist Tom Johnson his finest work. It is normal practice in this product to display the Male name on the left and Female on the right.
A scanned close up of a portion of the Hand Painted Marriage Celebration image, showing the stunning quality of our work: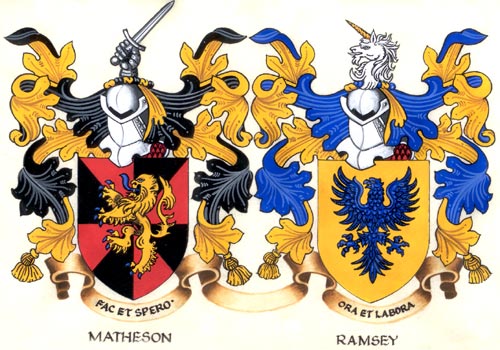 Anniversary celebrations are the same price.

Date of meeting or marriage can be added at no extra cost.

Click here to see our other Marriage Celebration items.
Hand Painted Large Marriage Celebration 18" x 14"
Tags: hand painted large marriage celebration, marriage celebration